I had so much fun researching the guild awards and events leading up to the Oscars that I thought it would be fun to review the fashions of the red carpet. Since fashion is ultimately objective and I love a good second opinion, I asked my Mom, Ruyle, and my sister, Susannah, to join me. Ruyle has a special place in her heart for Starbucks, snowmen, quotable movies, kindergarteners and Belknap Springs in winter. She is the happy mom to her three kids, and admits that we do keep her (and my dad) amused on a regular basis. Which means we have succeeded. Susannah is a student at the University of Oregon in Eugene, OR. She enjoys all things movie and music related. Susannah especially holds dear the entire Gilmore Girls Canon, and will always find a time to quote it whenever she can. So - let's dive in!
Jessica Chastain, McQueen
Hillary:
Chastain Redemption! After an awards season that has been cluttered with Gowns That Should Never Have Been (I'm not even going to link to pictures because several of the truly ought not to have been), Chastain pulls out this little McQueen number, and the world breathes a sigh of relief.
Ruyle:
I love it!
Susannah
:The dress compliments her hair and really flatters her in all the right places. She went for simplicity with earrings and a few bracelets, and I applaud her for that. My only wish is to have seen those shoes, personally I think some strappy black stilettos would have been perfect.
Rooney Mara, Givenchy
Hillary:
It's....got eyelids. And it doesn't fit her. And...eyelids.
Ruyle:
At least the eyelids are *happy* (come on,like the cartoon faces!)
Susannah:
I can appreciate what Mara was trying to do. I think it fits her quite well, I love the skirt, but yes the "eyelids" are a tad...um...well to put it simply-unnecessary.
Hillary:
I mean, at least it's not black, you know? I just wish she'd found a seamstress to tailor the bodice, and asked Monsieur Givenchy to sew down the dixie cups. Or something. I like it from the waist down, though.
Octavia Spencer, Tadashi Shoji
Hillary:

Octavia is awesome. She can dress herself beautifully, something women half her size can have trouble with. She looks like a million bucks, she deserved the win. I want her to
take Christina Hendricks shopping - Christina would go home with clothes that FIT, and they'd have a great time.
Ruyle:
Octavia nailed it here. Excellent idea to send her shopping with Christina!
Susannah:
What I love about this is that it is so flattering on her, and all the lines hit her in all the right places, plus she keeps it light on the accessories letting the dress make the major statement. Only concern was when she went up to receive her Oscar, she literally wobbled..., but you know what? I'll overlook it :)
Emma Stone, Giambatista Valli
Hillary:
Oh Emma, the bow. It takes away your neck. It blocks your airways. It's the size of your head. It looks like something
Nicole Kidman
wore once. I wish you had worn
this
instead. Or
this
. Something that doesn't look like it could be a hiding place for Voldermort.
Ruyle:
Again, five minutes with a seam ripper and VOILA!
Hillary:
No joke! Also, a stronger lip color. I think there needs to be someone at the Oscars, hiding in the restrooms, who removes superfluous dress details. It's for the greater good.
Danny:
"
The Greater Good
."
Ruyle:
Pick Me! Pick Me!
Susannah:
This dress could have been absolutely perfect without the bow because it looks like she will be swallowed whole by it, and honestly it looks to me as if she needs more support in the bust area. Other than that, her accessorizing was tasteful and the clutch was very nice, and her hair has the perfect updo.
Michelle Williams, Louis Vuitton
Hillary:
I like this a lot, from the front. The
back
(back of the bodice, specifically) is really, bad. But if you look at just the front, it's pretty great. Wish she'd ditch the pin, though. It's distracting.
Ruyle:
Darling. Possibly the only winning peplum featured dress of the night. Agree about the back...what were they (designers) thinking?!
Re: The figure behind Michelle: Ladies, remember, Spanx is your friend.
Hillary:
Ooh - hadn't noticed. But yes - shapewear! And now I can't look away. So did you not like the peplum on Tina Fey's dress?
Ruyle:
Tina's dress was ok, but when I look at it, I see PEPLUM and I like the subtler look of peplum on Michelle's dress.
Susannah:
I adore this dress on Michelle, it flatters her, it is a bold color for her, and I love the peplum. I happen to think the bow is a nice light touch, and again she just accessorizes with a clutch, and a simple necklace. I wish I could have seen the shoes for this.
Melissa Leo, Reem Acra (!?)
Hillary:
An unmitigated disaster. In my original tweet post, I said she looked like an administrative assistant from the armpits up, and Barbie from the armpits down. But when I saw the whole thing and THAT SASH...
Barbie says no to sad, saggy, superfluous sashes. So I don't know what to say, other than
no
.
But her hair is nice. And the shoes look cool.
Ruyle:
Sorry Melissa, I was prepared to go to bat for you until I saw...The Sash. I liked the look from the waist up (above sash). I liked the mix of styles and sequins, the casual, understated hair...but, you lost me with...well you know.
I just want to rewind the tape and take the dress for a little "pre-Oscar magic" ala the dress makeover in
What A Girl Wants
before the Debutante Ball. I WANT TO FIX IT! ...it's a mom thing.
Hillary:
I love it! I need to see that movie again. So - what if it were a cocktail dress? No sash? Almost cute? Where's Susannah - WE NEED YOU!
Ruyle:
We could make it a cute strapless cocktail dress, nipped in here and there for great fit, or leave it full length. Either would be lovely.
Susannah:
Overall this dress to me is bleh :/ The sash doesn't cinch her waist and give her shape in any way shape or form. The only great thing about it is the shoes. It doesn't flatter her in any way and accessories don't do much to save this catastrophe either.
Hillary:
Do you think shortening it to cocktail length might have helped? With a teal or royal blue clutch?
Susannah:
To me this dress just is not an Oscar worthy dress and is unsalvageable to me.
Hillary:
I nominate this
Donna Karan
look as a substitute. Still within Melissa's aesthetic, but not, you know, awful. Or this, from
Carolina Herrera
.
Susannah:
I would choose the Donna Karan look, age appropriate and of course it's a classic black and white combo.
Hillary:
Okay - so I was thinking about it while I was putting my makeup on this morning. I also think this
Oscar de la Renta
would have been kind of fun and whimsical, but still have the sleeves that Melissa likes.
Ellie Kemper, Armani Prive
Hillary:
Best dressed of the Bridesmaids, and might be one of my faves overall. Great colors, great sparkle - am a fan.
Ruyle:
Totally agree. It all came together beautifully for Ellie.
I could give the 2nd Best Dressed Bridesmaid award to Wendi McLendon-Covey. What can I say? It was pink, sparkly and frothy.
Hillary:
I need a pic. I do not remember.
Ruyle:
I'll work on that. I only saw it briefly on stage and had to hunt it down! But I do like it much.
Susannah:
Ellie no doubt to me is the best dressed of the bridesmaids. She chose a color that really compliments the red in her hair, and I love the bangs. Plus the earrings I adore because they take some of the gold from the dress and highlight it, and bring in a little bit of red to make sure we don't forget that it is there.
Wendi McLendon-Covey
Hillary:
You don't think it washes her out?
Ruyle:
I like to think in person it doesn't. It's a delicate look for her delicate features.
Hillary:
I can live with that. But she needs bangs. Imagine the look with bangs and a slightly brighter pink lipstick.
Susannah:
This is definitely a very pretty dress, but it isn't what I would call a statement dress, but overall Wendi looks beautiful.
Shailene Woodley, Valentino
Hillary:
I waffle on this. I should probably hate it, but I don't. Instead, I find this dress to be very Uma Thurman-ish. It's attractive...but you don't really know
why
.
Ruyle:
Hmmm...I'm thinking White House Dinner here, understated and elegant, but not Oscar worthy.
Susannah:
I happen to think it's actually a very nice dress, it's very classy and elegant and she looks very grown up. Which when you're in the ABC family show/soap opera "Secret Life of the American Teenager", you want to look more grown up in real life and stay away from your TV character. I applaud her!
Hillary:
Yay! And I thought the hair and makeup were pretty great. She wore the whole look - it didn't wear her.
Stacey Kiebler, Marchesa
Hillary:
When bad dresses happen to good people. Now, when Georgina Chapman speaks on
Project Runway, All-star
, I'm going to yell "Giant Hip Rose Or Possibly Tree Knot!" at the screen.
I like the bodice, though. And the hair. I hope Stacey goes on to do nice, spunky things when she and George break up.
Ruyle:
I'm sure she will and they will remain the best of friends.
Hillary:
I hope so!
Susannah:
All I can think is simply this...there is a rose growing out of your hip...EMERGENCY SURGERY NOW!
Hillary:
STAT! That would actually make a fairly awesome
Grey's Anatomy
episode. Ooh! Or
ER
!
George will know what to do!!!
Susannah:
*smile* :)
Meryl Streep, Lanvin
Hillary:
Go on, Meryl. You won the award. Caress the Firth's face. You've earned it.
Ruyle:
He's good with that.
Susannah:
I think she knew she would win, the gold dress practically matches her lovely Oscar :)
Hillary:
I now want them to be a couple. So. Much.
Ruyle:
Awww...I so agree. Kind of reminds me of Brad and Angie at last year's Golden Globes when she was adjusting his cute little bowtie..it's a wife thing.
BTW, I did like Sandra's dress very much, and partly because of the stunning back which you get a tiny look at here.
Hillary:
I did like the back. I also try not to think about the front.
Susannah:
Dress wise I loved it, at first I wasn't quite sure about it, but then I saw the back...and fell
in love
Penelope Cruz, Atellier Versace
Hillary:
Favorite dress on-screen - I thought it looked more green then. But it was wonderful, and it moved beautifully, and her styling was adorable. Possibly my very favorite.
Ruyle:
LOVE this dress on Penelope, the hair, the jewelry...She radiates confidence and pure Hollywood glamour = A+
Susannah:
For some reason the color of the dress is bothering me. If it had been in a darker jewel tone, that would have been more preferable. Otherwise, I love the style of the dress and the accessories and hair. Again...need to see shoes!
Hillary:
I think the red carpet threw off way the dress photographed by countering the green tones (kind of like how the trim on my house looked WAY purple until we put the grass in - and then the excess red went away. Pretty much). Because it was seriously stunning on screen. That said, I *do* think that it's important to make sure a dress photographs well for events like this.
Natalie Portman, Vintage Dior
Ruyle:
I don't know what I like better, her lovely, vintage red ball gown or her pre-Oscar red carpet interview with Robin Roberts, when she responds to Robin's question about Billy Crystal as the night's Oscar host: "....he's not going to be mean..." Love It.
Hillary:
I want a different necklace. I want a pearl necklace with a pearl and ruby pendant. Diamonds and swiss dot - I'm not feeling it. Unless it was a black swiss dot.
Which it's not.
Susannah:
I actually happened to like the necklace, the dress not so much. To me it looked a lot like an elongated version of a prom dress, and she needed an updo for this dress to make it more elegant in my opinion.
Hillary:
You're right - a more 50's-style updo would have matched the look better. If you're going to go vintage, go vintage. Just not like
Miley Cyrus
.
Susannah:
Agreed :p
Hillary:
Speaking of Miley Cyrus and blue nail-polish, can we take a minute to appreciate the woman behind Natalie? I mean really appreciate? Because she's pretty great. And by great, I think
Yzma
would appreciate the styling.
Missi Pyle, Valentina Delfino
Hillary:
This dress is, apparently, eco-friendly, with repurposed zippers. What the who, I just thought it was pretty.
Ruyle:
It is pretty. I
would
like to see her walking in it. Just say'in.
Hillary:
Leetle steps. To match her leetle carbon footprint.
Susannah:
Honestly, I just don't like this dress. The top half yes, but the bust isn't fitting her very well, the skirt is just weird, and I don't like the off the shoulder. It just looks like a very mismatched dress, with different parts of a dress sewn together. I do like her hair...but that's about it.
Livia Giuggioli, Valentino
Hillary:
I actually guessed this was Valentino when I saw it. Showing this picture rather than the full-length one makes it so you can get past the dress and focus on how cute they are.
Rather than get stuck on the phrase
crumb catcher
.
Ruyle:
True she didn't snag a winning dress, but, she got Colin... *sigh*
Hillary:
And that's what matters! (And, honestly, if it weren't for the Ruffle That Shouldn't Have Been, it's a really cute dress).
Susannah:
Yeah not wild on this dress, but hey she has a Mr. Darcy by her side, how much better can you get?
Hillary:
(Mr. Darcy
and
a good dress. Just sayin'.) Wiith Colin's affinity for choosing strong roles, though, she'll definitely have a second (third, fourth) chance.
Jennifer Lopez, Murad
Hillary:
If she'd had full sleeves, we wouldn't have been able to tell how toned her arms are.
Ruyle:
Oh Jen. Just call me next year. For you, I will make the trip. We'll go shopping, hit Starbucks and find you "The Gown" and you'll love it.
p.s. I have solid connections, and her name is Hillary.
Hillary:
p.s.s. If you think your diva attitude will work on my mom? Think. Again.
Susannah:
I like this dress, and I don't like it at the same time. The plunging V neck needs to be a tad bit higher, and a less severe bun. The lines of this dress work and don't work at the same time...yeah.
Hillary:

I liked this when I saw it on camera, but up close and holding still, the bodice is a bit of a tortured mess. Her breastage looks awkwardly squished. And something happened to her skirt when she got out of the car.





But, her husband was very sweet and loving being her Oscar date, she was enjoying her real hair, and she looked like she had a great time. At least she wasn't dressed as Annie Hall, or something.





Ruyle:

True, the bodice could use a little "tweaking" but the color is fabulous on her and talk about toned arms!





Susannah:

I agree about the bodice, I would have had it as a sweetheart or just a plain strapless. The jewel tone is perfect and she looks confident and poised.





And finally:
Angelina Jolie & Leg, Atellier Versace. And Skin.
Hillary:
I have a whole scenario about how this came to be. It's frankly the most logical conclusion.
It goes like this:
Angie's at home with Brad, Sunday morning, and she' SO TIRED AND JET LAGGED. I mean, she just flew in from Eastern Europe promoting her film, which she wrote and produced and directed and created from the dust of the earth. Because she is a Serious Actress, this is all very tiring. And while she did go to the theater the day before to rehearse, even that took a lot out of her.
Just when she's thinking - "hey, I wish I could stay home, but I can't, 'cause Brad got nominated, so I can't even pretend to break my foot while chasing my child who was chasing a goat, like Halle Berry" - who should ring the doorbell but Lea Michele!
Yes, Lea Michele from Glee. She's going door to door because she found a stray kitten and is trying to figure out from whence it scampered. But she sees Angie, who's exhausted, and is all, "Hey! Let's switch bodies!"
And Angie, who tends not to like award shows and attention, leaving right after she presents, running from Ryan Seacrest, and generally eschewing such activities because she is a Serious Actress, believes the idea has merit.
She asks Brad.
Brad: "My hair is shiny."
So Angie (now in Lea Michele's body, since they held hands and had a Freaky Friday moment) goes off to take a well deserved nap. And Lea (in Angie's body) goes to pick out a dress. She opens Angie's closet.
Lea: "Black, black, boring, caftan, black, caftan - hey! Velvet with a slit! I can work this!"
And this is indeed true, as dresses with high slits are like catnip to Lea.
Lea gets dressed, and she and Brad hit the road.
Brad: "Are you sure you've got this?"
Lea: "
So
.
Totally
. You?"
Brad: "My hair. It shines."
Now, Lea has never met a spotlight she's not wanted to soak into every pore of her being. But tonight - of all nights - she's with Brad Pitt, in Angelina Jolie's body. Her foot hits that red carpet, and POP goes the leg! She cannot help it. This is what her leg will do in dresses with high slits, and the leg wants what the leg wants. She continues this down the red carpet, basking in the glow.
Now, Lea knows she has to blend in a bit, make people BELIEVE that she is Angelina Jolie, Serious Actress. But when she walks to the front of the stage in that velvet dress with that high, high slit -
- under those lights -
- with all of those people -
And she decides - hey! I'm at the Oscars, and who knows when I'll be back? And so POP goes the leg. Because she is Lea Michele, and she brings fabulousness to the stage.
(This works out pretty well for all - Lea, for the attention, Brad, because of his shiny hair, but Angelina is horrified in the morning to find out that her leg has a Twitter account, because she is a Serious Actress, and what will people now think of her Serious Idea for a Film set in Afghanistan??)
That's honestly all I've got. Trust me - think on it, and it will make sense. At least, about as much as anything else.
Ruyle:
Ok, so I had a dream about Brad Pitt last night. I said, "so Brad, is there some back story to the whole leg thing with Angie? If you "can't say" it's ok, I was just curious. Brad demurred. So, I continued, "did you know there's a
whole site on the net with pictures of Angie's leg photo bombing
?" Brad laughed and said "NO!" "Here, I'll pull it up for you" I said. When it came up, he whipped out his camera and took a shot of it on the screen.
Crazy, no?
Hillary:
No. This is very valid.
Susannah:
Truthfully I actually loved this dress...she looks great in it and she knows it...I'm pretty sure she was probably singing to herself in her head "I'm Sexy and I Know it" or something along those lines. Plus she provided good material for some Oscar winners to imitate and mock her for her pose, and you know what they say...imitation is the sincerest form of flattery ;)



Hillary:

Here's the writing team for

The Descendents

, and writer Jim Rash, who took awesomeness to a whole new level.





Because really? That's what writers do.



So, Mom - what would you have worn to the Oscars?
Ruyle: I like this Temperley London - without the hat and necklace of course.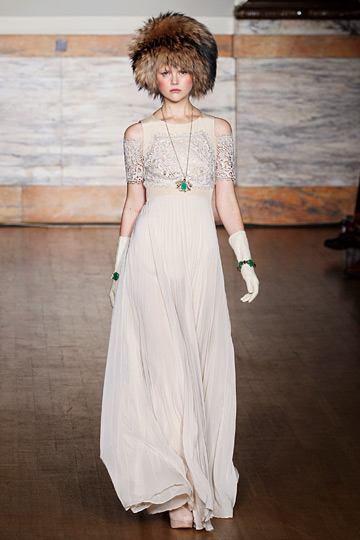 Susannah: I picked this Valentino, though with less of a V-neck. The back is very pretty, though.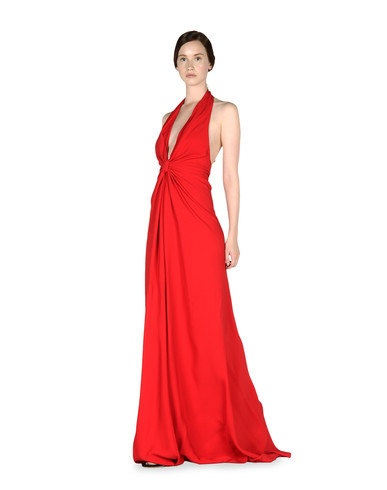 Hillary: It's very pretty! I looked at LOT of dresses, and finally settled on this one by Monique Lhuillier.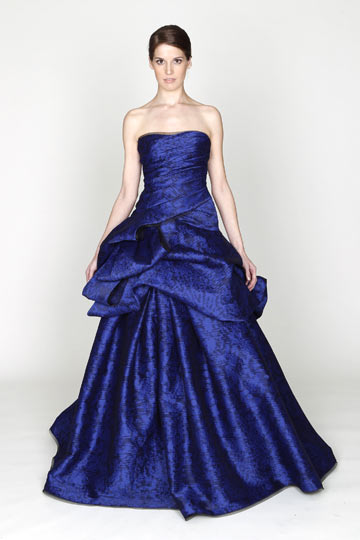 It's blue and it's shiny and poufy and I twirls. I'm sure :-)
Thanks for joining us, everybody!