So excited about this post! Joining me for the Oscar prognostications is my fellow blogger and film-enthusiast, devotional author Robbie Iobst.
There are a lot of categories, so we're going to dive right into the Best Actor Category -
Best Performance by an Actor in a Leading Role
Robbie: Colin Firth. This is a no brainer. He won the Golden Globe and the SAG for The King's Speech. He is just excellent as the stuttering King George VI. His fear is palpable. I'm a long time Firth fan, since I saw him as the gorgeous Mr. Darcy in BBC's Pride and Prejudice. I say it's about time.
Hillary: Hear, hear! I'm in total agreement. Colin's put out a lot of good work lately; he gets stuck in some thankless roles sometimes (The Accidental Husband comes to mind,) so I'm delighted that he's gotten the recognition for his more serious work.
He's a talented man, even when he's not walking out of a lake.
Best Performance by an Actress in a Leading Role
Hillary: Natalie Portman. End of conversation. It was very shrewd of her to become pregnant and engaged to the choreographer of her film, because her "aww" factor is unbeatable at this point. It doesn't hurt that she acted her bony little toes off in Black Swan, either – that statuette is hers.
Robbie: I haven't seen Black Swan, but she's won for this role at the Golden Globes and the SAGs. My personal favorite is Nicole Kidman in Rabbit Hole. She was soooooo good!
Robbie: Christian Bale playing Dicky Eklund in The Fighter is a tour de force performance. I didn't recognize him at all. He'll win, but I do have a place in my heart for Geoffrey Rush from The King's Speech. He is outstanding in it.
Which of these would you choose, Hillary?
Hillary: Christian Bale. But I feel the same way about Geoffrey Rush! It was nice to see him not dressed as a pirate for once :-)
Best Performance by an Actress in a Supporting Role
Hillary: I'm going with Hailee Steinfeld on this one. I think Melissa Leo had it pretty much sewn up until she pulled
this
stunt, which was – weirdy weird? I don't even know what to say. And frankly, if she doesn't show up to the Oscars in flow-length fur.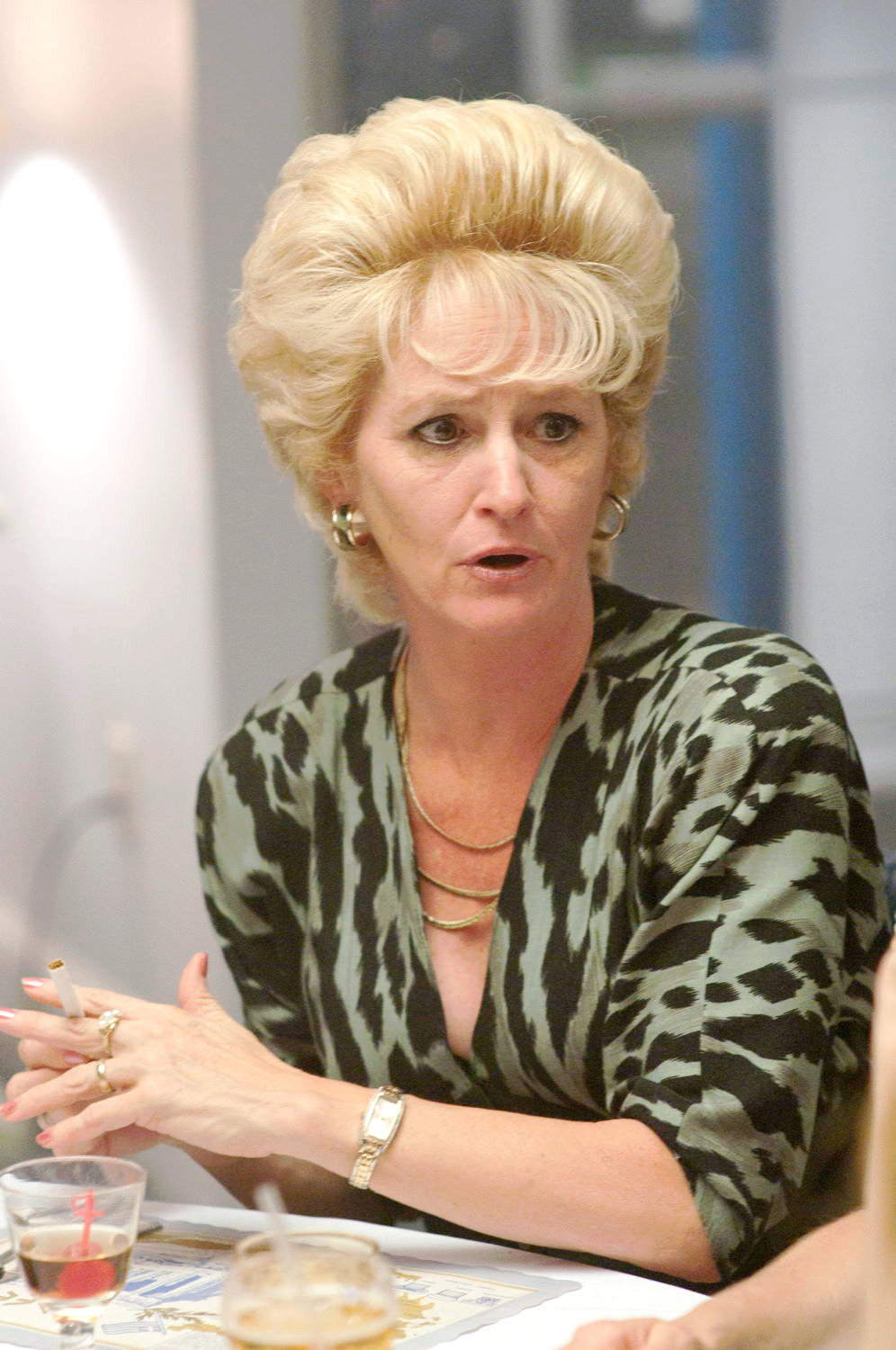 But Hailee, Hailee is young and fresh as a California daisy, with enough spunk and screen presence to hold her own next to Jeff Bridges, Matt Damon, and Josh Brolin. And as far as I know, she's publicly avoided fur.
Robbie – you've seen both True Grit and The Fighter. Thoughts?
Robbie: Melissa Leo will win. I used to love watching her in an old TV show called Homicide. So I'm a fan. And when I saw The Fighter, I didn't recognize her at all. Total transformation. Hailee was excellent, but I believe Melissa was better. As far as the ad goes, you're right – weirdy weird! Hope that doesn't ruin it fur her.
Hillary: Groan!!!
Best Achievement in Directing
Hillary: This one's tricky! Normally the DGA (Director's Guild Awards) is the major predictor for this category. Tom Hooper of The King's Speech won, but all the buzz and predictions is in David Fincher's favor (The Social Network).
I'm a fan of Fincher – I thought his Zodiac was amazing, and I feel that under his direction, The Girl With the Dragon Tattoo has a shot at being okay.
But…I'm going with the guild with this one. I may be wrong. But the guild seldom leads me astray.
Robbie, what do you think?
Robbie: I think the Academy Award voters will actually split and give the Best Picture to The King's Speech and give Best Director to Tom Hooper. I doubt The Social Network will get any other awards besides writing, and this is a wonderful, relevant movie. Hooper will win is my guess.
Best Writing, Screenplay Written Directly for the Screen
Robbie: David Seidler will win for The King's Speech because it will win best movie of the year. Mr. Seidler suffered from a stutter as a child and that tidbit adds to the sentimental factor. But Christopher Nolan SHOULD win for Inception. It is original and written with a rhythm and complexity that makes the audience actually think about the plot. Loved it!
You're a wonderful writer Hillary, so what do you think?
Hillary: Aw, thanks Robbie :-) Both Inception and The King's Speech, obviously great screenplays. It's tricky to compare the two, because they're so different. Inception is so very plot-oriented, The King's Speech is all about character.
Of the two, I definitely have a stronger emotional attachment to The King's Speech. I loved how it was about so many things without being heavy-handed in one direction or another.
The win will definitely go to The King's Speech, but truly, if Speech and Inception hadn't released the same year, the award would go to Chris Nolan for Incpetion.
Best Writing, Screenplay Based on Material Previously Produced or Published
Hillary: Aaron Sorkin (The Social Network) has this in the bag. Though I have to say, while the writing was classic Sorkin brilliance most of the time, I found the opening sequence to be a little too "Hey look at me, see how clever my writing is," and made it difficult to really get into the film at first. If you're writing is stopping the reader/viewer/partaker of media from becoming involved in the piece as a whole, it's time to edit.
There's my Social Network rant.
In my perfect, happy world, I would honestly give the award to the Cohen siblings for True Grit. I loved the dialogue; it was wordy when it needed to be and spare when necessary. But that's just me.
Back to you, Robbie!
Robbie: You make a great point about the cleverness of Aaron Sorkin, but that's what I adore about his writing. I think he deserves the trophy. The Cohen brothers based their movie more on the book than the original John Wayne movie and I believe the book is where they got the style of writing from. So, although True Grit's wording is interesting, I found The Social Network to be more interesting.
Hillary: I can honor that!
Best Animated Feature Film of the Year
Robbie: Toy Story 3 should and will win! My son liked How To Train Your Dragon much more, but the voters are all adults who will award not just this movie but the dynasty of great animation movies that is Toy Story 1,2 and 3.
Hillary: Totally agree. It's kind of like the Best Picture win for Return of the King, except with Fisher Price toys. Loved HTTYD, though. Note: just looking at this picture makes me teary!
Best Foreign Language Film of the Year
Hillary: I'm going with Incendies, from Canada, but this is always a tricky one to predict. I haven't seen any of the films, but I'll definitely catch most of them after they release to DVD.
Dark horse: Suzanne Bier's In a Better World, mainly because the Academy loves Suzanne Bier. (She directed 2006's After the Wedding, which showed the softer side of Mads Mikkelsen).
Robbie – have you seen any of the nominees?
Robbie: Nope. But every time I Netflix a foreign movie, I base it on the last year's nominees. So eventually I'll see them all. For this category, I vote randomly. Incendies sounds good.
Best Achievement in Cinematography
Robbie: I hope Roger Deakins will win for True Grit. He's been nominated for this award 9 times for films like Fargo and The Shawshank Redemption but he's never won. True Grit was not my favorite movie this year, but the camera work is excellent and makes you feel as if you are truly in the old west. I love the underdog and for someone to be nominated 9 times and not win, well, that's sad. I'm hoping number 10 will be a charm.
Hillary: This is another tricky one. Inception won the ASC award, but there are a lot of people who want to see Roger Deakins win. While I think giving him the award is not unlike Martin Scorcese's Oscar for The Departed, I hope he wins. If he doesn't, the Oscar will be going home with Wally Pfister for Inception.
Best Achievement in Editing
Hillary: The Social Network won the Eddie Award (how cute is that!), which is the Editor's Guild award. Though technically Alice in Wonderland won an award as well, the Oscar will go to The Social Network.
My Preference: Well, my heart is with The King. The thing that worries me is that, traditionally, the film that wins Best Editing usually wins Best Pic…
Robbie: My heart, too, is with The King's Speech. However, I have to tell you I was shocked that Inception was not included in this category. I felt the editing in that movie kept the suspense taut and the action moving. My personal Robbie Award for Best Editing – Inception!
Hillary: Yeah, Inception's lack of a nom here was strange. Christopher Nolan won a special award at the Eddies, but I'm not sure it makes up for the slight.
Best Achievement in Makeup
Robbie: I haven't seen any of these movies, but I checked out the character's make up online from each one. Barney's Version is aging make up. The Way Back is war time battle make up and The Wolfman is monster make up. My vote is for The Wolfman because they transformed Benicio del Torro from a beautiful man to a hairy creature. That's craft!
Hillary: I agree! Though I do think Benicio del Toro is kinda funny looking. ..
Robbie: Then I'll take the funny looking one.
Best Achievement in Costume Design
Hillary: Both Alice in Wonderland and The King's Speech took home Costume Designers Guild Awards, but Colleen Atwood (Alice won fairly recently for both Memoirs of a Geisha and Chicago. Jenny Beavan, on the other hand, hasn't won since A Room With a View, though she's costumed films such as Ever After, Possession, Sherlock Holmes, and Sense and Sensibility, all films I really like and thought were very strong costume-wise.
So I'm going with Jenny.
Robbie: Absolutely. The King's Speech costumes were on the money.
Best Achievement in Music Written for Motion Pictures, Original Song
Robbie: "We Belong Together" from Toy Story 3 is my pick. The songs from 127 Hours, Country Strong and Tangled are all slow beautiful ballads, but Randy Newman's "We Belong Together" is fun, cheerful and perfectly fits the friendship theme in Toy Story 3.
Hillary: Agreed! Throw in the Toy Story 3 "aww" factor (up there with Natalie's baby bump), and it's definitely Randy Newman for the win :-)
Best Achievement in Music Written for Motion Pictures, Original Score
However, I think the fact that the Academy is…how to put it…aging…the fact that Alexandre Desplat's score is truly lovely, and the fact that he's been nominated four times – I'm going with Alex, despite the fact that he has a strange looking upper lip.
Which score did you prefer, Robbie?
Robbie: I disagree with you on this one, Hillary. Although the scores from The Social Network and The King's Speech were wonderful, the score from Inception was brilliant. It probably won't win but it should. I think if not Inception's score, the score from The King's Speech will win.
Hillary: Interesting choice!
Best Achievement in Sound Editing
Robbie: Inception. The sound is dreamy. Yes, that was an intentional pun.
Hillary: Well, if there's going to be a pun, it may as well be intentional…
Best Achievement in Sound Mixing
Hillary: Inception. Because it's cool and techy.
Robbie: Much better than cold and tacky.
Best Achievement in Visual Effects
Robbie: The Visual Effects team of Inception should and will win, hands down. The dream scenes with all the paradoxical architecture are absolutely outstanding. A house has a flood within it, a street of buildings collapse slowly and a staircase appears to never end. These are just three of the amazing visual effects this movie has to offer.
Hillary: I'm going to disagree here. My prediction is a win for Iron Man; Academy voters have historically been shown to be easily swayed by men in metal suits.
…
Just kidding. Starting to get loopy here. If there wasn't a pun above, it probably wouldn't have happened. The award will go to Inception.
Robbie: Oh, Hillary-san, you funny when loopy.
Best Achievement in Art Direction
Hillary: This one is tricky too. Alice in Wonderland is favored by many to win, but it didn't win an Art Director's Guild award.
But it was big and splash and had Johnny Depp in it.
But The King's Speech – which did win an ADG award, was really lovely.
Difficult to say. At this point…erg. Will it go to Alice because Alice isn't likely to win anything else? Or to King's Speech because voters are caught up in a wave of voting love, as they tend to do?
I'm going to argue with the other predictors and go with Speech. I may be wrong.
OR…voters could go with Inception, which also won a ADG award and looked amazing, and less like a Tim Burton movie. Truly and deeply conflicted. Did the elderly voters stay awake long enough to see Paris fold over on itself? Sticking with Speech for the time being, but I'll let you know if I change my mind.
Robbie – insight? Help?
Robbie: You bring up a great point about the "seniority" of the Academy Award members. But I am going to be idealistic and say that they saw all of the entries with an open mind. If they did, I believe it would be between Inception (I really liked that movie – can you tell?) and Alice in Wonderland. I'm going to go with my favorite, Inception.
Hillary: Thank you for your calm words of wisdom, Robbie-san.
Best Documentary, Features
Robbie: The only one I've seen is Exit Through the Gift Shop and I think it will win. It's the story of graffiti artists. Doesn't sound that interesting, but it made me care about these nocturnal lovers of graffiti art.
Hillary: I've heard good things about Exit, but all the buzz I've read about is saying Inside Job. This may be because a lot of Hollywood celebs lost a lot of money last year.
Best Documentary, Short Subjects
Hillary: Based on the subject material, I'm going for Killing in the Name. Mind you, I haven't seen any of the shorts.
Robbie: I think I'll choose Poster Girl although I haven't seen any of them either. I like the irony of the film – The film's subject was on the cover of an Army magazine and went to Iraq and then suffered from post traumatic stress disorder. I want to see this one.
Best Short Film, Animated
Robbie: The only one I've seen is the one that will win. Not because of me, of course. Day and Night was the short film by Pixar that was shown before Toy Story 3. I thought it was brilliant.
Hillary: I'm leaning towards The Lost Thing myself, but this tends to be a tricky category to predict.
Best Short Film, Live Action
Hillary: Ebert says Na Wewe – I say, sure!
Robbie: Ebert knows.
And finally, the Big Kahuna….
Best Motion Picture of the Year
Robbie: The King's Speech. It has the Academy Award feel of a Best Picture. It is a great story and wonderfully told, well-acted, and the ending allows the audience to feel wonderfully. There is a slight chance for an upset with The Social Network taking the honor being a movie of our times, completely relevant to what is going on in our technological world. But most of the voters are older, so I'm going to go with The King's Speech.
Hillary: I agree, for the same reasons. While I think the fact that it has that Best Pic Material sheen seemed to it hurt it earlier on, The Social Network experienced the same backlash that Up in the Air did last year to a certain extent.
That being said, The King's Speech is a wonderful story with characters that really resonate; the film's success is an illustration of the way audiences respond to films with well-written characters.
Robbie: Lovely to banter with you Hillary! Here's to the Oscars!
Hillary: And speaking of the ceremony - what will you be wearing?
Robbie: After weeks of consider all my options, I have narrowed what I will wear down to two lovely gowns. Both are modeled here by Penelope Cruz, an actress with many similarities to me.
or
Hillary: Both lovely choice - so sweet of Penelope to model them for you! I always hear such good things about her. I had trouble deciding myself -
This is from Carolina Herrera's Fall 2011 collection; you can see it move
here
. The skirt is, like, alive. But I'd probably want to stick a giant sparkly pin on the waistband, so I'm not to be trusted with fashion.
So there you have it, folks! The Oscars, the awards, and the clothes - be sure to check in on Twitter on Sunday during the awards. Barring a snowstorm in Flagstaff (so lame, I know), I'll be live-tweeting through the ceremony.
I mean, live micro-blogging. I forget sometimes that I forget I don't use the word "tweet" unless actual birds are involved.
And be sure to catch posts on Robbie's blog!
Robbie Iobst is a movie aficionado with a love for the Academy Awards. She also is a writer living in Centennial, CO with her husband John, son Noah and puggle Scooby. Check out Robbie's world here.